Be sure and ask Elizabeth what's currently needed.  Thank you!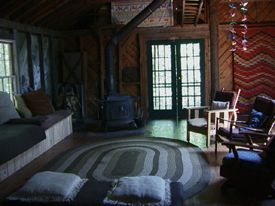 •  funding for 3 high quality vinyl table clothes for Lodge tables (30″x96″)
•  natural fiber scatter rugs in various sizes – darker colors preferred
•  single and double size wool and cotton blankets (solid, dark colors)
•  acrylic yoga blankets for the Lodge
•  single and double size cotton quilts
•  wooden Adirondack chairs for decks at Mu, Pine and the Lodge
•  standard, octagonal or round wooden picnic tables
•  floor pillows for the Lodge
Please no "chairs in a bag" or plastic chairs.  When donating tea lights unscented only please.  Thank you!